Terms and Conditions of the Website
Publisher and Editorial staff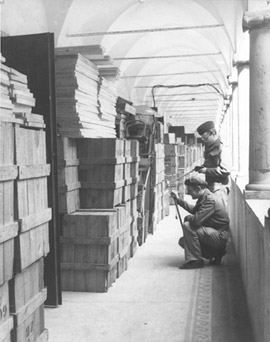 Publisher
Jewish Museum Berlin
Lindenstrasse 9-14
10969 Berlin
Director
Prof. W. Michael Blumenthal
Finanzamt für Körperschaften III, Berlin
ID-Nr. DE 200 42 91 62
Steuer-Nr. 29/33/4995
The Jewish Museum Berlin is subsidized by the Federal Government Commissioner for Cultural Affairs and the Media.
Should rights (also) lie with others, please inform the Stiftung Jüdisches Museum Berlin.
Concept, implementation, editing
Dagmar Ganßloser
Etta Grotrian
Jana Mechelhoff-Herezi

With the support of:
Jonas Brandt
Lena Seauve
Pia Starke
Daniel Tkatch

Graphics
Fred Bordfeld
Flash production for the Case histories
Bram Van der Poel
HTML templates
Tobias Last
Translations
Adam Blauhut
Maja Lenhardt
Naomi Lubrich
Penny Motley
Wilf Moss ("What would you decide?")
Drawings and animation for "What would you decide?"
Pet Gotohda
Script and concept for "What would you decide?"
Dagmar Ganßloser
Etta Grotrian
Martina Lüdicke
Jana Mechelhoff-Herezi