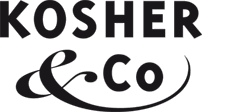 Sweet Matzah Balls
To commemorate the hasty exodus of the Israelites from Egypt, Jews only eat an unleavened bread called matzo during the eight days of Passover. Particularly popular are matzo balls in soups.

The following sweet matzo balls are very unusual! The recipe comes from Blanka Ginsburg, who got it from her mother-in-law, Liesel Ginsburg. Liesel lived together with her husband, Alexander, originally from Latvia, in the Rhineland. In Germany it is customary to serve cake and coffee on a holiday afternoon, but since baking a cake that is "koscher-le-Pessach" (kosher for Passover) is quite an undertaking, Liesel Ginsburg used to prepare these matzo balls instead.

One Passover it so happened that Liesel Ginsburg – not quite comme il faut – prepared a large amount of sweet matzo balls in the morning so she would only have to warm them up in the afternoon. When her husband came home hungry from the synagogue, he inspected the refrigerator and polished off all the matzo balls without reheating them. His wife, the cook, therefore concluded that her husband much preferred to eat his matzo balls cold.

So it came to pass that the Ginsburg family ate their matzo balls cold for decades. The misunderstanding was not cleared up until Liesel and Alexander Ginsburg had reached a ripe old age. One day Liesel was pressed for time and prepared the matzo balls in the afternoon and served them warm. Her husband dug in heartily and remarked that he thought the matzo balls always tasted much better warm than cold.

Ever since, their offspring have served the sweet matzo balls warm, calling them simply "SMB" because of their long name.