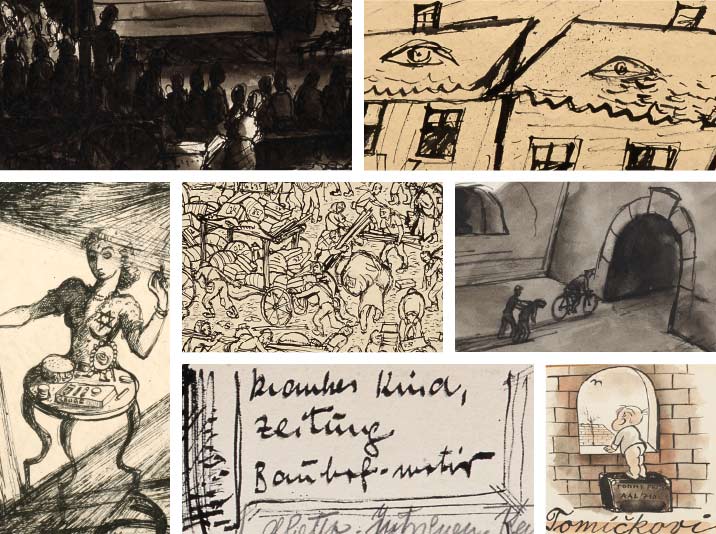 About the Exhibition
The exhibition "Bedřich Fritta. Drawings from the Theresienstadt Ghetto" presents works by the graphic artist Bedřich Fritta (1906–1944), produced between 1942 and 1944 in the Theresienstadt ghetto.
The fortress of Theresienstadt, north of Prague, was made into a ghetto in late 1941. Around 140,000 Jews from central and western Europe were interned there before being deported to the death camps in the East. The international public—and especially the International Red Cross—was supposed to believe that this was just a normal small town, where Jews lived in isolation but under acceptable conditions.
Bedřich Fritta,

Building Barracks

(commissioned work), Theresienstadt 1942
Pen and ink, watercolor, 17 x 23 cm
© Thomas Fritta-Haas, photo: Terezín Memorial, accession number: PT 1763
---
Among their other tasks, artists detained in Theresienstadt had to produce propaganda material to reinforce that illusion. However, in secret drawings they captured the hardship of actual life in the ghetto.
The majority of Bedr¡ich Fritta's large ink drawings and sketches, numbering more than one hundred, survived in hiding. They are now in the possession of the artist's son.
Up to now, Fritta's works have been regarded mainly as historical documents. This survey exhibition, by contrast, focuses on the aesthetic techniques through which Fritta interpreted and commented on daily ghetto life. It reveals the diversity of his visual language and the extraordinary artistic quality of his drawings and sketches.