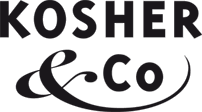 Kosher Wine
Wine has been produced in the land of Israel for at least 5,000 years. For wine to be kosher, or ritually pure, it may not be produced by a Gentile. Offerings in the ancient Jewish Temple had to be pure and there was a concern that the wine might have been contaminated through cultic use by other religious groups.
In the time of the First and Second Temples, wine was widely consumed by the local populace, but the best wines were set aside for Temple libations. Wine was offered together with animal offerings and new wine was tithed to the Temple.



Detail: "Kosher for Passover"

Traditional Jewish law indicates that a kosher wine can become impure if handled or poured by a non-Jew. Some kosher wines are therefore boiled (mevushal) prior to the bottling process - the wine then retains its religious purity, no matter who touches it.