Still from the installation "Alien" © Candice Breitz
Candice Breitz
Alien (Ten Songs from Beyond)
2002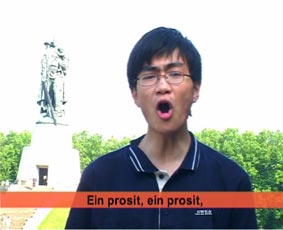 "Alien (Ten Songs from Beyond)" is an installation consisting of ten circularly arranged monitors that produce a cacophony of words, melodies and voices. Viewers are presented with ten people singing songs, but what they hear are songs in German sung by somebody else.

"Jarring, strident, fragmentary - at no time does the playback process go unnoticed. Body and voice do not produce a whole; they remain asynchronous. The speech of another person, a stranger, takes possession of the body: At Kottbusser Tor in Kreuzberg, Cem Sultan Ungan, a native of Turkey, sings 'Keine Macht für Niemand' in the high voice of a child. In front of the Soviet monument in Treptower Park, the Chinese national Kai He gives an off-key rendition of 'Unrasiert und fern der Heimt.' At Alexanderplatz, a young Ukrainian presents the 1980s hit 'Jenseits von Eden' in a deep male voice with a Cologne accent, while the Fountain of International Friendship purls in the background." (From the catalogue for the exhibition "How German is it? 30 Artists' Notion of Home")

The Jewish Museum Berlin is presenting the installation in the Eric F. Ross Gallery, which is accessible from the permanent exhibition.

The artist Candice Breitz was born in Johannesburg in 1972 and lives and works in Berlin. She is a professor at the Braunschweig University of Art. Her website can be viewed at www.candicebreitz.net