Medinat Weimar office in an exhibition in Stockholm
Ronen Eidelman
Medinat Weimar
2008/2011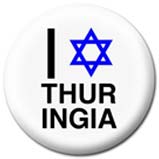 "Medinat Weimar" is a movement that aims to found a Jewish state in Thuringia. The project was originally launched on the streets of Weimar and is now being pursued mainly on the Internet. It has been conceived as a solution to political conflicts, whether in Israel or the German state of Thuringia.

"The Medinat Weimar movement not only supports the efforts of young Jewish Israelis to obtain a second passport from a European country or even to take on German nationality. It also offers a vision of a social utopia that aims to stop the decline of Thuringia's population and combat the popularity of radical right-wing ideology. Medinat Weimar draws on various ideas discussed in connection with the Zionist movement of the late nineteenth and early twentieth centuries." (From the catalogue for the exhibition "How German is it? 30 Artists' Notion of Home")

According to one of the thirteen Medinat Weimar theses, "people of all backgrounds and nationalities" are encouraged to participate. Medinat Weimar offices have been set up at several exhibitions in order to spread the vision of this kind of community. The movement is presented on the Internet at medinatweimar.org.