Scene with René Pape from the film installation "My home ..." © Julian Rosefeldt
Julian Rosefeldt
My Home is a Dark and Cloud-Hung Land
2011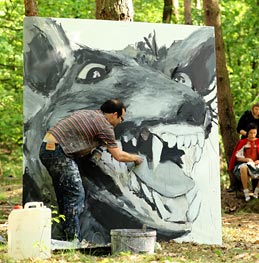 The film installation created by Julian Rosefeldt for the "How German is it?" exhibition deals with a central aspect of German mythology: the forest. Different scenarios and traditional concepts of the forest are combined in a film plot that deliberately cultivates confusion and avoids constructing a conventional narrative arc.

"Following the invitation to participate in 'How German is it?" I became interested above all in the question of the extent to which my own ambivalent feelings towards my homeland are linked to its landscapes and the extent to which the image of the landscape associated with Germany plays a role in the idea of what is 'typically German,' which includes both negative and positive characteristics, such as hard-working, pedantic and orderly, blinkered and inflexible, melancholic and self-hating, etc." (Julian Rosefeldt in the catalogue for the exhibition "How German is it? 30 Artists' Notion of Home")

In order to create his four-channel installation, Julian Rosefeldt immersed himself in the cultural history of the forest. The works he consulted included Tacitus' Germania, Romantic forest poetry and literature on subjects such as forestry, the use of the forest as a metaphor and its ideological instrumentalization.

The artist was born in Munich in 1965 and lives and works in Berlin.