Excerpts from "The Tempest" and "Nightmare"
Miguel Rothschild
The Tempest
2008–2009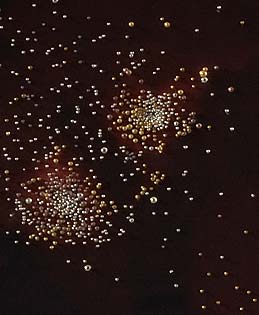 Like "Nightmare," which is also being shown in the "How German is it?" exhibition, Miguel Rothschild's "The Tempest" has its origins in a series of sky pictures produced in 2003.

The image shows a dramatically clouded night sky in Berlin through a window on which storm rain is beating and pearling. On closer examination these rain drops prove to be holes punched in the picture that have left a pile of confetti on the floor.

"Nightmare" features a panoramic view of a night sky laced with stars. Closer inspection reveals the stars to be pins of different sizes and colors. The size and position of the celestial bodies are based on a real photograph taken of the night sky.

"The images 'Nightmare' and 'The Tempest' seem to have fallen out of time and recall images from the late Romantic period that combine an idealized view of nature with precise observations of natural phenomena." (From the catalogue for the exhibition "How German is it? 30 Artists' Notion of Home")

Miguel Rothschild was born in Buenos Aires in 1963 and lives in Berlin. The artist's website can be viewed at www.miguelrothschild.de