Repotting plants in the artists' studio
Lilli Engel & Raffael Rheinsberg
The Natural Art Cell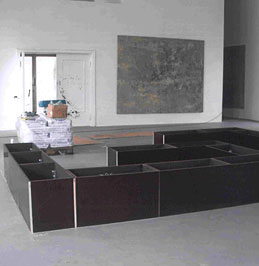 The work by Lilli Engel and Raffael Rheinsberg consists of a cube made of a high hedge. Entering the cube, visitors find themselves in a passageway that leads to a tiny cell.

"In their spatial sculpture, Engel and Rheinsberg connect the legend of the German forest with the social idea of allotment gardens, thereby creating an aesthetic image that ironically pokes fun at the promise of happiness made by these two disparate ideals." (From the catalogue for the exhibition "How German is it? 30 Artists' Notion of Home")

Lilli Engel was born in Solingen in 1939, Raffael Rheinsberg in Kiel in 1943. The artists have been collaborating on art projects since 1989 and live and work in Forst im Hunsrück.