Glossary - B
Salo W. Baron (1895-1989)
Noted historian Salo W. Baron was intensely involved in the search and preservation of Jewish cultural items in post-Holocaust Europe. He was the founder and president of the Commission on European Jewish Cultural Reconstruction (CEJCR). The organization was the predecessor of the Jewish Cultural Reconstruction, Inc. (JCR), founded in 1947.
See: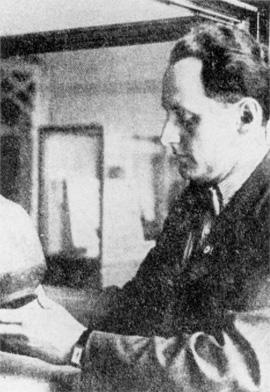 Gustav Barthel (1903-1972)
Gustav Barthel, director of the Städtische Kunstsammlungen Breslau (Municipal Art Collections Breslau), participated in art looting in Poland and co-authored the catalogue "Secured Works of Art in the General Government" that listed cultural assets that had been confiscated in Poland. Apart from that, he took advantage of his relationships to Jewish private collectors to acquire their works inexpensively.
See: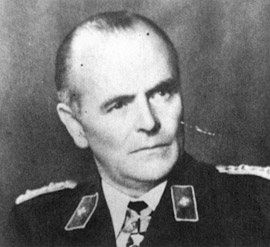 Baron Kurt von Behr (1890-1945)
Together with Robert Scholz, the former Red Cross official Kurt von Behr headed the special "Fine Arts" team and the central task force in France until mid-1942. In this capcity he organized the so-called "Furniture Action," in which art objects, furniture and all types of household goods were confiscated from the homes of Jews who had either fled the country or had been deported.
See:


photo: National Archives and Records Administration (NARA)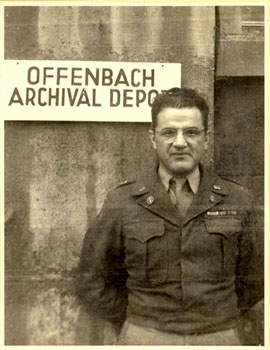 Isaac Bencowitz (1896-1972)
As Seymour Pomrenze's successor, Isaac Bencowitz was responsible for the Offenbach Archival Depot from May to October 1946. He developed an ordering and identification system based on photographs of ex libris and library stamps that enabled the consolidation of libraries that had been torn asunder.
See: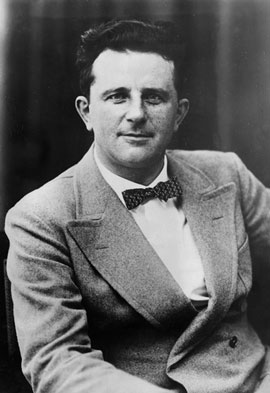 Ernst Buchner (1892-1962)
Ernst Buchner, the director of the Bayerische Staatsgemäldesammlungen (Bavarian State Painting Collections), assisted the Gestapo in the confiscation of Jewish collections. He played a crucial role in the removal of the Gent altarpiece to Germany. Dismissed from his position in 1945, he was reinstalled in 1953.
See: