Glossary - P
Koppel S. Pinson (1904-1961)
The historian Koppel S. Pinson worked in Germany as the official representative of the American Joint Distribution Committee, the most important relief organization for Jewish survivors. He played a decisive role in the founding of the Offenbach Archival Depot.
See: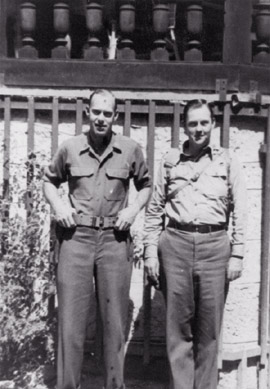 James S. Plaut (1912-1996)
In November 1944, the American art historian was appointed director of the Art Looting Investigation Unit (ALIU), which was part of the Office of Strategic Services (OSS). From June 1945 to spring 1946, Plaut and his staff, operating out of Altaussee, interrogated former members and suppliers of "Einsatzstab Reichleiter Rosenberg".
See: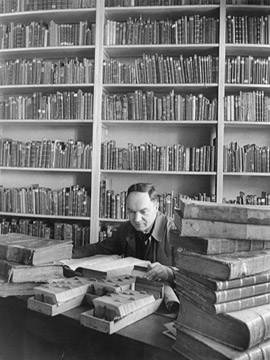 Johannes Pohl (1904-1960)
The Catholic theologian Johannes Pohl directed the collection of Hebraica at the Institute for Research on the Jewish Question from April 1941 to October 1943. In this function, he participated in numerous confiscation raids in Southeastern and Eastern Europe. After 1945, he worked for the Catholic Church and the editorial staff of the Duden German dictionary.
Seymour Pomrenze (1916-?)
In 1946, Seymour Pomrenze was appointed the first director of the Offenbach Archival Depot. In this capacity he helped return the Bibliotheca Rosenthaliana to the Netherlands. He was also involved in the restitution of the Strashun Library in Vilnius to the YIVO Institute for Jewish Research in New York. Founded in 1925, the YIVO is an academic center for the study of Yiddish and Eastern European Jewish culture.
See:
Hans Posse (1879-1942)
The art historian Hans Posse was personally assigned the task of assembling the collection of the "Führer Museum" in Linz by Hitler on June 26, 1939. The so-called "Special Mission Linz" formed around Posse. Not only did it have the power of disposal over artworks for the "Führer Museum," but also over all holdings subject to the "Führer's Proviso."
See: