Glossary - G
Hermann Göring (1893-1946)
Hermann Göring (1893–1946) was the second most powerful man in the Third Reich. In rivalry with Adolf Hitler, he too amassed a comprehensive art collection. Göring initially financed his passion for collecting with donations from industrialists who hoped to curry favor with him.
However, as the Nazi campaigns of conquest expanded, he changed his strategy. He began to enrich himself on a grand scale with property expropriated from Jews who had fled or been deported. By the end of the war, his collection comprised 1,375 paintings, in addition to numerous sculptures, tapestries, furniture, carpets and other decorative art objects. Plundered possessions made up half of his collection.
Göring visited the Jeu de Paume some 20 times between 1941 and 1944, where special viewings of looted art were arranged for him. During these visits, he selected numerous works for his own collection. At the end of the war, Göring's collection at his country estate Carinhall included 700 works that had been confiscated by the "Einsatzstab Reichsleiter Rosenberg."
See: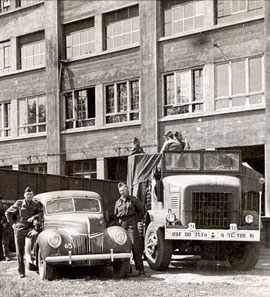 Dirk Petrus Marius Graswinckel (1888-1960)
The Dutch archivist Dirk Petrus Marius Graswinckel (front left) worked as the Netherland's liaison officer at the Offenbach Archival Depot. In this capacity, he also traced depots of loot such as this storage facility of the "Einsatzstab Reichsleiter Rosenberg" at Staffelstein near Bamberg.
See: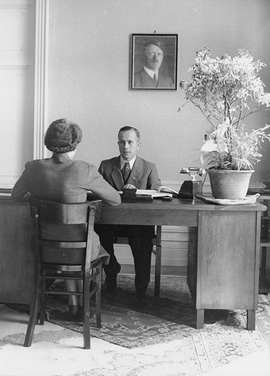 Wilhelm Grau (1910-2000)
The historian Wilhelm Grau headed the Institute for Research on the Jewish Question from 1940 to 1942. He participated directly in the raids carried out by the "Einsatzstab Reichsleiter Rosenberg" in Paris. After 1945, he operated a publishing company for local history in Alzey.
Wolfgang Gurlitt (1888-1965)
Despite being partly of Jewish descent, Wolfgang Gurlitt was able to establish himself in the international art trade during the Nazi period. He was involved in the sale of confiscated "Degenerate Art" abroad. After the war, he headed the Neue Galerie in Linz until 1956, where parts of his major collection were exhibited.