Glossary - V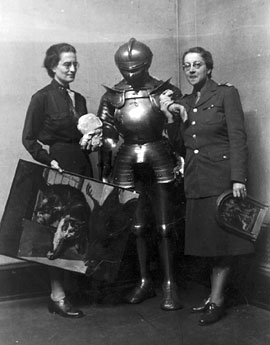 Rose Valland (1898-1980)
The French art historian Rose Valland (1898–1980) worked at the Jeu de Paume in Paris during the Occupation. The museum was used by the "Einsatzstab Reichsleiter Rosenberg" as an interim storage facility for looted art. At the risk of her life, Valland kept secret inventory lists of the delivered works and their destinations in Germany.
Thanks to these lists, she made valuable contributions to the tracing and restitution of important collections after the war, while working for the French Restitution Commission.
See:
Hermann Voss (1884-1969)
After Posse's death in December 1942, he was succeeded by Hermann Voss. The former director of the painting gallery at the Museum Wiesbaden was not only made director of the Gemäldegalerie Alte Meister in Dresden, but also head of the "Special Mission."
See: